Serial G:
The Sensorites
The TARDIS lands on an Earth spaceship orbiting the Sense-Sphere in the thirtieth century. Having made contact with the Sense-Sphere's reclusive inhabitants, the telepathic Sensorites, the Doctor must discover the source of a poison which has debilitated both Ian and most of the Sensorite race. At the same time, he has to escape the machinations of an opportunistic Sensorite who sees the chaos as the chance to seize power for himself.
Peter Richard Newman had been an actor and director in repertory theatre, as well as a writer for radio, when his television play Yesterday's Enemy was broadcast by the BBC in 1958. The next year Newman created a film version of the play for Hammer Films, and he thereafter spent several unproductive years developing material for Hammer before he began discussions with story editor David Whitaker about contributing to Doctor Who. During January and February 1964, Newman developed a storyline which was commissioned under the title of The Sensorites on February 25th. This would be Newman's only contribution to Doctor Who, and indeed his last credit for British television. Suffering from severe writer's block, he took a job as a porter at the Tate Gallery in London; an accidental fall there led to his death on February 22nd, 1975.
The Sensorites, Serial G, was originally intended to close Doctor Who's first season, although production would continue for several more weeks to build up a stockpile of episodes for broadcast after the proposed six-week break in transmission. However, Chief of Programmes Donald Baverstock decided in late May that Doctor Who would go on hiatus for only four weeks, and that this would not begin until the early autumn. As a result, the next serial to be recorded, The Reign Of Terror, would become the new season finale.
The Sensorites was originally intended to close Doctor Who's first season
Meanwhile, Baverstock had not yet approved a full second season for Doctor Who. One of the issues affecting the programme's long-term future was its studio assignment. Producer Verity Lambert had for some time been negotiating to move Doctor Who out of the cramped and technologically unsophisticated confines of Lime Grove Studio D. On April 30th, she finally secured permission from John Mair of the BBC's Planning Department to make use, whenever possible, of Studios 3 and 4 in BBC Television Centre as well as Lime Grove Studio G, although the latter's elongated dimensions made it generally unsuitable for Doctor Who. In particular, it was noted that the spacious sets needed for The Sensorites -- originally scheduled for Lime Grove D -- would be incompatible with Lime Grove G, and it was too late to rewrite the serial to fit into those facilities.
The director assigned to The Sensorites was Mervyn Pinfield, Doctor Who's associate producer. Pinfield had briefly been a candidate to helm Inside The Spaceship, but this would be his first directorial outing on the series. It was felt that Pinfield had the experience necessary to achieve a visually impressive production despite the minimal budget accorded to The Sensorites. Later, it was agreed that Pinfield would make way for Frank Cox on the fifth and sixth installments (he received his normal associate producer's credit only on these last two episodes as a result). Cox had handled part two of Inside The Spaceship, and this would be his last outing on Doctor Who. For the BBC, Cox went on to direct episodes of programmes such as The Troubleshooters and Softly, Softly: Task Force, and also produced Sutherland's Law for a year. He went freelance in 1977 and was a director on series including Taggart; Cox also produced several plays.
A small amount of filming for The Sensorites, involving model shots and back-projection, was undertaken at the Ealing Television Film Studios in May. Part one was then recorded on May 29th, with the following episodes taped on subsequent Fridays as usual. One scene, apparently the insert in which the Earth spaceship in seen on the TARDIS scanner in A Desperate Venture, was remounted on July 10th. This occurred just prior to the start of production on part one of The Reign Of Terror, and was supervised by that story's director, Henric Hirsch.
Sydney Newman suggested that Doctor Who should be cancelled if adequate studio facilities could not be found
Due to the ongoing debate over Doctor Who's studio space, the first and second episodes were taped in TC3, the fourth in TC4, and the remainder in Lime Grove D. As with the two preceding serials, one of the regulars was given two weeks off during the production of The Sensorites; in this case, Jacqueline Hill was written out of parts four and five.
Meanwhile, the studio problem had escalated to the point that in a May 20th memo to Baverstock, Head of Drama and Doctor Who creator Sydney Newman had gone so far as to suggest that his brainchild should be cancelled if a satisfactory solution could not be found. Newman did not want to see Doctor Who's potential compromised as a result of inadequate facilities. In early June, Newman suggested that Doctor Who might be shifted to the diminutive Television Centre Studio 2, with each episode being taped over two days instead of one. Lambert nixed this idea because of the extra cost and effort which the change in recording scheme would entail. Shortly thereafter, the dilemma was finally settled when it was agreed that Doctor Who's new home, effective the final serial of the production block, would be Riverside Studio 1.
Episode one of The Sensorites, Strangers In Space, was broadcast on June 20th. The following week, The Unwilling Warriors was delayed by 25 minutes due to the overrun of Summer Grandstand. One week later, on July 4th, an extended edition of the same programme caused Doctor Who's first-ever break in transmission. Although it appears that a late 7.10pm slot may have been contemplated for part three, Hidden Danger, the episode was ultimately preempted completely and held over until the following Saturday.
Doctor Who: The Handbook: The First Doctor by David J Howe, Mark Stammers and Stephen James Walker (1994), Virgin Publishing, ISBN 0 426 20430 1.
Doctor Who: The Sixties by David J Howe, Mark Stammers and Stephen James Walker (1992), Virgin Publishing, ISBN 1 85227 420 4.
Doctor Who Magazine #248, 12th February 1996, "Archive: The Sensorites" by Andrew Pixley, Panini UK Ltd.
Doctor Who Magazine Special Edition #7, 12th May 2004, "Do You Want To Know A Secret?" by Andrew Pixley, Panini Publishing Ltd.
Looking For Peter by Toby Hadoke, special feature on The Sensorites DVD (2012), 2|entertain.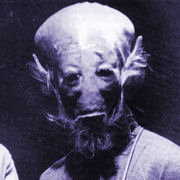 Original Transmission
1: Strangers In Space
Date
20th Jun 1964
Time
5.15pm
Duration
24'26"
Viewers

(more)

7.9m (17th)
Appreciation
59%
2: The Unwilling Warriors
Date
27th Jun 1964
Time
5.40pm
Duration
24'44"
Viewers

(more)

6.9m (39th)
Appreciation
59%
3: Hidden Danger
Date
11th Jul 1964
Time
5.15pm
Duration
24'53"
Viewers

(more)

7.4m (22nd)
Appreciation
56%
4: A Race Against Death
Date
18th Jul 1964
Time
5.15pm
Duration
24'49"
Viewers

(more)

5.5m (58th)
Appreciation
60%
5: Kidnap
Date
25th Jul 1964
Time
5.15pm
Duration
25'47"
Viewers

(more)

6.9m (29th)
Appreciation
57%
6: A Desperate Venture
Date
1st Aug 1964
Time
5.15pm
Duration
24'49"
Viewers

(more)

6.9m (39th)
Appreciation
57%
---
Cast
Dr Who
William Hartnell
Ian Chesterton
William Russell
Barbara Wright
Jacqueline Hill
Susan Foreman
Carole Ann Ford
John
Stephen Dartnell
Carol
Ilona Rogers
Maitland
Lorne Cossette
First Sensorite
Ken Tyllsen
Second Sensorite
Joe Greig
Third Sensorite
Peter Glaze
Fourth Sensorite
Arthur Newall
First Elder
Eric Francis
Second Elder
Bartlett Mullins
Sensorite
Anthony Rogers
Gerry Martin
First Scientist
Ken Tyllsen
Second Scientist
Joe Greig
Warrior
Joe Greig
Commander
John Bailey
First Human
Martyn Huntley
Second Human
Giles Phibbs
---
Crew
Written by
Peter R Newman
Directed by
Mervyn Pinfield (episodes 1-4)
Frank Cox (episodes 5, 6)
Produced by
Verity Lambert
Title music by
Ron Grainer
with the BBC Radiophonic Workshop
Incidental music composed and conducted by
Norman Kay
Costumes supervised by
Daphne Dare
Make-up supervised by
Jill Summers
Story Editor
David Whitaker
Designer
Raymond P Cusick
Associate Producer
Mervyn Pinfield