Torchwood Episode 14:
Kiss Kiss, Bang Bang
When Jack abruptly reappears after being missing for weeks, the rest of the Torchwood team reacts with no small degree of suspicion. Matters are compounded when Jack is soon joined by the roguish Captain John Hart, his former Time Agent partner, who claims to be tracking three radiation bombs which have tumbled through the Rift to Cardiff. Accompanied by Hart, Torchwood splits up to recover the bombs... but can John Hart really be trusted?
Forthcoming.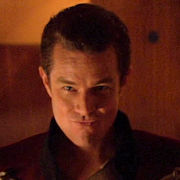 Original Transmission
Date
16th Jan 2008
Time
9.00pm
Duration
48'22"
Viewers

(more)

4.2m
Appreciation
84%
---
Cast
Captain Jack Harkness
John Barrowman
Gwen Cooper
Eve Myles
Owen Harper
Burn Gorman
Toshiko Sato
Naoko Mori
Ianto Jones
Gareth David-Lloyd
Rhys Williams
Kai Owen
Captain John Hart
James Marsters
Old Woman
Menna Trussler
Blowfish
Paul Kasey
Mugger
Crispin Layfield
Victim
Nathan Ryan
Hologram Woman
Inika Leigh Wright
Teenage Girl
Sarah Whyte
---
Crew
Written by
Chris Chibnall
Directed by
Ashley Way
Produced by
Richard Stokes
Created by
Russell T Davies
Co-Producer
Chris Chibnall
1st Assistant Director
Nick Brown
2nd Assistant Director
Lynsey Muir
3rd Assistant Director
Paul Bennett
Location Manager
Nicky James
Production Manager
Steffan Morris
Production Co-ordinator
Hannah Simpson
Continuity
Heulwen Jones
Script Editor
Brian Minchin
Camera Operator
James Moss
Focus Puller
Chris Reynolds
Gaffer
John Truckle
Supervising Art Director
Keith Dunne
Standby Art Director
Beverley Gerard
Props Master
Stuart Wooddisse
Set Decorator
Adrian Anscombe
Construction Manager
Matthew Hywel-Davies
Graphics
BBC Wales Graphic Design
Costume Supervisor
Charlotte Mitchell
Make-Up Supervisor
Claire Pritchard Jones
Stunt Co-ordinator
Tom Lucy
Stunt Performer
Curtis Rivers
Casting Associate
Andy Brierley
Post Production Supervisors
Helen Vallis
Chris Blatchford
Post Production Co-ordinator
Marie Brown
Colourist
Mick Vincent
Dubbing Mixer
Tim Ricketts
Supervising Sound Editor
Doug Sinclair
Sound FX Editor
Howard Eaves
Casting Director
Andy Pryor CDG
Production Accountant
Ceri Tothill
Sound Recordist
Jeff Matthews
Series Designer
Julian Luxton
Costume Designer
Ray Holman
Make-Up Designer
Marie Doris
Music
Murray Gold
Prosthetics
Millennium Effects
Visual Effects
The Mill
Visual Effects Producer
Marie Jones
Vis Effects Supervisor
Barney Curnow
Special Effects
Any Effects
Editor
William Webb
Production Designer
Edward Thomas
Director of Photography
Simon Butcher
Production Executive
Julie Scott
Associate Producer
Catrin Lewis Defis
Executive Producers
Russell T Davies
Julie Gardner
---
Working Titles
Separation Anxiety